By Eric Hamilton,
University Communications
Irving Shain, a chemistry professor and UW–Madison chancellor emeritus who advanced the university's interests in China and established University Research Park, died peacefully Tuesday, March 6, in Madison after a brief illness. He was 92.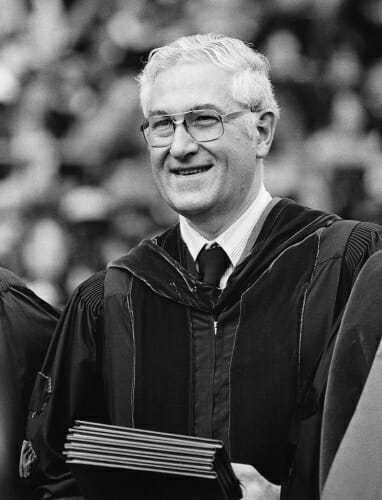 Shain joined the UW–Madison faculty in 1952, later chairing the Department of Chemistry from 1967 until his appointment as vice chancellor for academic affairs in 1970, serving until 1975. He was chancellor for almost a decade, from 1977 to 1986. After stepping down as chancellor, he joined the Olin Corporation as vice president and chief scientist, a post he held until 1992.
During his tenure as chancellor, Shain oversaw the establishment of the School of Veterinary Medicine and the development of the health sciences complex on the west end of campus. He was instrumental in establishing University Research Park, the 260-acre business incubator located on Madison's west side.
"I am deeply grateful to have had the opportunity to work with Irv on the Board of Trustees of University Research Park," says UW–Madison Chancellor Rebecca Blank. "Irv was always smart and strategic, while also having a wry sense of humor. His impact on this university is visible more than 30 years after he left. Irv Shain made UW better in many ways throughout his career on this campus. We will miss him and remember him."
In 2006, Shain's contributions to the Department of Chemistry and UW–Madison were honored at the dedication of the then-new Shain Research Tower of the Chemistry Building, at which Gov. Jim Doyle and former Chancellor John Wiley spoke. In 2016 his sons, John and Paul, endowed the Irving Shain Chair in Chemistry, which supports the research programs of the department chair in recognition of their father's contributions in that position.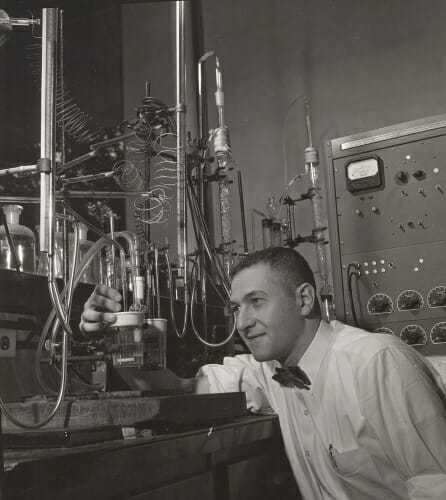 "He was a mentor to me and so many other faculty and administrators," says Bassam Shakhashiri, a professor of chemistry at UW–Madison who was hired by Shain in 1970 and who became close friends with him. "His influence transcends the chemistry department and UW–Madison."
Shain steered development of University Research Park through its early years, which were fraught with slow growth and intense criticism, helping it grow into an enviable accelerator with dozens of technology companies employing as many as 3,800 people and contributing hundreds of millions of dollars to the state economy. He went on to serve on the Board of Trustees until 2015.
"I feel blessed to have worked with Irv, enjoyed his guidance and wisdom, and appreciated his vision that University Research Park could both strengthen the University of Wisconsin–Madison and help translate research into world-changing products and companies," says Aaron Olver, managing director of the research park. "It's an honor to lead University Research Park and continue to build on Irv's legacy."
Shain's vision extended beyond the sciences. He fought for greater recognition of the arts at the university and endowed two student competitions at the School of Music. He also played a crucial role in establishing ties between American and Chinese universities by founding a thriving student exchange program in 1979. He led delegations to China and welcomed Chinese scholars to Madison, in turn helping place American students at Chinese universities.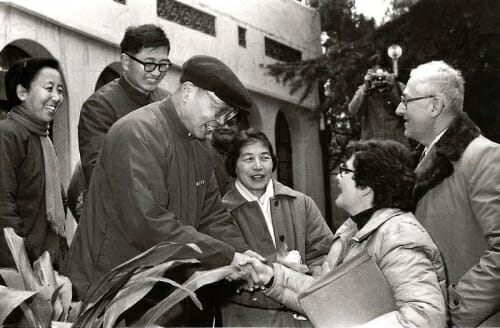 "(He) really focused around helping other people and creating a lasting legacy called the UW that would ultimately continue to thrive well beyond when he was chancellor," says his son Paul.
Shain was born on Jan. 2, 1926, in Seattle. He served in the Army during World War II and went on to earn a Ph.D. in chemistry at the University of Washington after the war. He began teaching at UW–Madison in 1952 and would go on to serve as provost and vice president for academic affairs at his alma mater from 1975 to 1977 before returning to Madison to serve as chancellor.
Shain was a noted scholar and mentor, publishing seminal research in the field of electrochemistry. He served as mentor and role model for students and colleagues in academia and industry, including Richard S. Nicholson, a student who went on to serve as chief executive officer of the American Association for the Advancement of Science.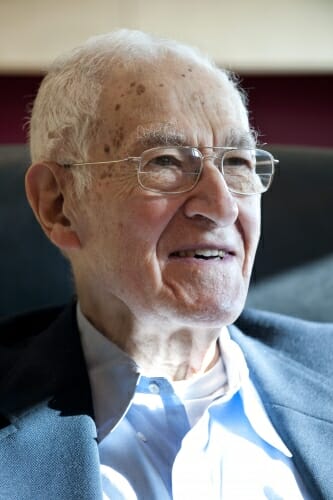 He was preceded in death by his wife of 68 years, Millie, in 2015. He is survived by four children, Kathy, Steve, John and Paul, and three grandchildren, Nathan, Isabel and William.
A public gathering to remember his life will be held on Monday, March 12, 2018, from 4 p.m. to 7 p.m. at Cress Funeral Home, 6021 University Ave. Memorial donations can be made to the University of Wisconsin Foundation to support the Irv Shain Memorial Fund for Chemistry. All donations will go to support the Chemistry Department Building Fund.